2
");
2 votes
10 Freeware Projects to Watch
It's a pretty tricky thing to do, finding the freeware application that incorporates all the features one is looking for in one program. Sometimes the job requires some forward thinking, and matching programs with various features can be the best solution. Again, this can make choosing very difficult.
To counter the difficulty of this challenge, there is a strategy that I have come to rely on that has allowed me to settle on the applications I will use and keep. Through trial and error and testing, it began to make sense to me, that, for me, there are some freeware programs that I can't afford to be without. For some of these, the attachment is that they are completely fully featured with all the features I am looking for. For others it could be that the program is the best one available, pay or free. For still others, it's an issue of support or of the quality of the application build.
This strategy works for me. I have been able to lock on several freeware programs that meet one of the criteria above and then as I go add applications that look too good to pass up or that provide a certain function. There are a large number of outstanding freeware programs available, so what do I look for from a front line program? Here are some of the freeware programs that I think are the best of the best of projects for the future. No question commitment to the development of the program is a huge element of its desirability and should be a primary consideration for selecting a title:
LibreOffice
-The Document Foundation, the LibreOffice development group, recently received a pledge of support from Intel. It's easy to see why. These guys understand what it takes to accomplish something great. They are all over the place, answering questions, fixing bugs, replying to e-mails , and then taking the time to grant interviews and update the media on the progress of LO. These are extremely exciting times for the team, and it's extremely exciting to watch, too.
This project, which began in 2010 as a splinter effort of the familiar OpenOffice development program, has taken off to the point that over 400 coders can now be counted as contributing to the effort, up from less than 50 in September of 2010. Here's a chart showing the increases by the month:
All the activity is making a big difference. Thousands of lines of unnecessary code are being cleared out of the program, and huge leaps are being made day by day as bugs are fixed and functionality added. All this is happening on top of the code that comprises, for all practical purposes, the OpenOffice suite. I don't hear very many complaints about OO, so it's easy to imagine how much improvement is being made with all the changes and refinements.
The project is now available in version 3.5.4 of which claims have been made of up to 100% gains in start up speed over the 3.4.5 version. Monumental improvement in a very short time, and a committed group working around the clock to make history can be assigned the credit. This is an exciting project to follow and that alone makes the program worth downloading. However, this is a good program. It remains to be seen how the LO developers will deal with the lack of a reliable macro language, but it's hard to imagine that the project will go another 2 years without breaking into uncharted waters for office software.
That makes this the best time to get involved. LibreOffice gets the highest recommendation for a freeware project from me. It's amazing to be able to contribute to such a focused effort even if only in small ways. It's also pretty easy, and it can begin with a simple download. Tell your friends to get on board, too. If they don't you can tell them you told them so soon...
OpenOffice has been a good project...this is different...
http://www.freewareb...46-libreoffice/
PeerBlock
-This is an open source IP blocker project which has tons of potential for the future for the protection of Windows based PCs.  The program makes it possible for users to hand select IP connections to block, making data transmissions impossible to and from the blocked IP.  The sky is the limit with an open source program like this one, where in the most certain of terms, the corporate world will eventually find this idea and support it.  And none too soon.
For anyone even remotely interested in fully securing their PC long term, this is the project to watch.  It comes in right behind LibreOffice for this list, but it could easily have been put in the top spot.  Watch for the project to catch fire at some point and look for its development to take it into uncharted waters of PC security.  It's unavoidable.
freewarebb.com/files/file/8161-peerblock/
Paint.NET
-The Paint.NET program was begun in 2004 as a student project at Washington State University. Originally, it was designed to be a replacement for Microsoft Paint, but the program has matured into a powerful photo editor with excellent user support across the internet. The initial version of the program, which contained 36,000 lines of code, now contains over 150,000 lines.
Officially, the project is not open source, but the code can be downloaded, so it would not be surprising if the program is eventually opened up to the masses of programmers. With plug-in support already built into the structure of Paint.NET, there is already plenty to be happy about, however.
Most important to the stature of Paint.NET is the online commitment to the program. There are scores of YouTube how to videos on the net, and, with photo editing as popular as it is, that will surely grow to more. Pressure from this very active group of users is all I need to believe that Paint.NET is a sure thing for the future. Things are good and can only get better. This is the exact formula to look for from a keeper program.
http://www.freewareb.../2750-paintnet/
VUE
-The product of an open source program at Tufts University, VUE is a professional mind mapping program with literally hundreds of uses. VUE stands for Visual Understanding Environment, descriptive terminology for the purpose of the program, which is to give a user the ability to convert an idea into a visual map. Not an easy challenge, but this software makes it possible.
There are numerous features in VUE such as the ability to create presentations using the program, but the most important element of the tool is the ease with which the information is able to flow from the mind to the canvas when creating a map. This is a credit to the program designers and is of tremendous benefit for making detailed explanations of concepts simple.
Best of all, VUE is just scratching the surface of its development. It's already arguably the best program of its class, but, being open source and being in the hands of a major university, VUE is an ideal program to start with now and grow with. This freeware is a valuable part of my software menagerie, and it is paying handsome rewards. All I can say is give mind mapping a try. You'll be one of the happy ones who did.
http://www.freewareb...g-presentation/
Lightworks
-This could be the most famed freeware of all the true keepers. Lightworks is a studio caliber video editing software, which was begun in 1989. The development was generally unsuccessful and was turned over to Lightworks, Inc. in 1999. Since that time the software has been used to create many Emmy and Academy Award winning shows and films, including The King's Speech, Martin Scorseses' Hugo and The Departed, Mission Impossible, Pulp Fiction, Braveheart, and Batman.
I guess it's a little surprising to find this kind of software available for free, but it's true.  It is free and availalble. As a matter of fact, the project had been scheduled for open sourcing at the end of 2011. The plan was put off indefinitely, but the seed still remains in the minds of the community of users. In the final analysis, though, this is one software that may not need open source support. That's because it's already so good. All this said, here's the challenge. Go download it. Forget about the fact that you don't know how to use it right now. This is one of the best softwares in the world, and you will be a proud owner if you will just take the initiative and make it your own. Seriously, this freeware will make your computer better, even if you don't use it very often, and, honestly, there is plenty of support available for learning how to make it work for you.
http://www.freewareb...638-lightworks/
Dexpot
-Dexpot is a multiple desktop platform that gives users the ability to work on any number of separate desktops at the same time from one monitor. This is a fully featured program which could be the best single desktop utility program I have seen to date.
The secret of Dexpot is a little hard to explain. The interface doesn't look fantastic, and it's really not all that complicated. However, underneath is a program that has been little by little refined until it can now be said that it is a very fine piece of work. And in spite of it all, all the support is in place, and so the updates just keep rolling in. But, as great as this software is already, it's its potential that makes one think long and hard about incorporating it into use.
The sky is the limit with Dexpot. There is plug-in support and most certainly there will be fantastic plug-ins developed as the program continues to mature. All in all, this is a situation where the development team can only win. The program is already a finished work. Now they can focus on plug-ins and major changes, should they choose. That adds up to a software that I can count on for even better things in the future and is the exact reason I am sticking with Dexpot.
http://www.freewareb...le/5255-dexpot/
Mozilla Thunderbird
-Thunderbird is an e-mail client from Mozilla, the same group responsible for the Firefox browser and a number of other quality free programs. It was initially launched in 2004 and has since gained a great deal of respect amongst its users. This comes in some ways as the result of the difficulty associated with finding excellent support for other clients, such as those included on PCs from the factory or in office bundles.
Thunderbird now has one of the great followings on the net. Nothing against the competition, but this client is answering to the users, and the open source community is delivering the results. Yes, there are other options with great support and with excellent flexibility of use, but Thunderbird is right there with them. And the open source way of doing things is insidious. While the competition waivers over how to change things, this program just quietly keeps getting better one day at a time.
I am really looking forward to the future with Thunderbird. With numerous plug-ins available already and with a sure following, it can only be a matter of time before we see something great from this group. The best part...it's already a very good program. The future is going to be fun for dedicated T-Bird users.
http://www.freewareb...la-thunderbird/
Sozi Presentation Software
-This is a great relatively new presentation software with a refreshing idea on what a presentation should be. The program is an extension of Inkscape, which is nice to know, but the best aspect of the project is that it has an innovative idea.
Basically, a Sozi presentation begins with a desktop area full of things. In Sozi, I am given options to focus the window on any of the elements on the desktop for any amount of time. It's oh so simple, and the project is built on open source code. I am going forward with this new way of thinking with the belief that as good as this software is now, it's going to get alot better. That always gets me going, but it's very satisfying with this program. I am looking forward to the years with Sozi as my presentation companion.
http://www.freewareb...ile/11574-sozi/
Linux Mint
-Getting down to the end of the top 10, so I've got to have an operating system, right?. Actually, the answer to that is no, I don't have to. Anything could have been here, but Linux Mint deserves to have this spot. I'm pretty sure some if not many would have placed it alot higher now that I think about it, honestly.
Linux is moving up in the world and very quickly it would seem. With the looming release of Windows 8 on the horizon, the world seems to be an open book. Microsoft is endeavoring to completely change the game with 8, but I am betting the best they would be able to do with it is give a small number of people something they can work with. That leaves the door wide open for Mint to make a serious run at the corporate PC world.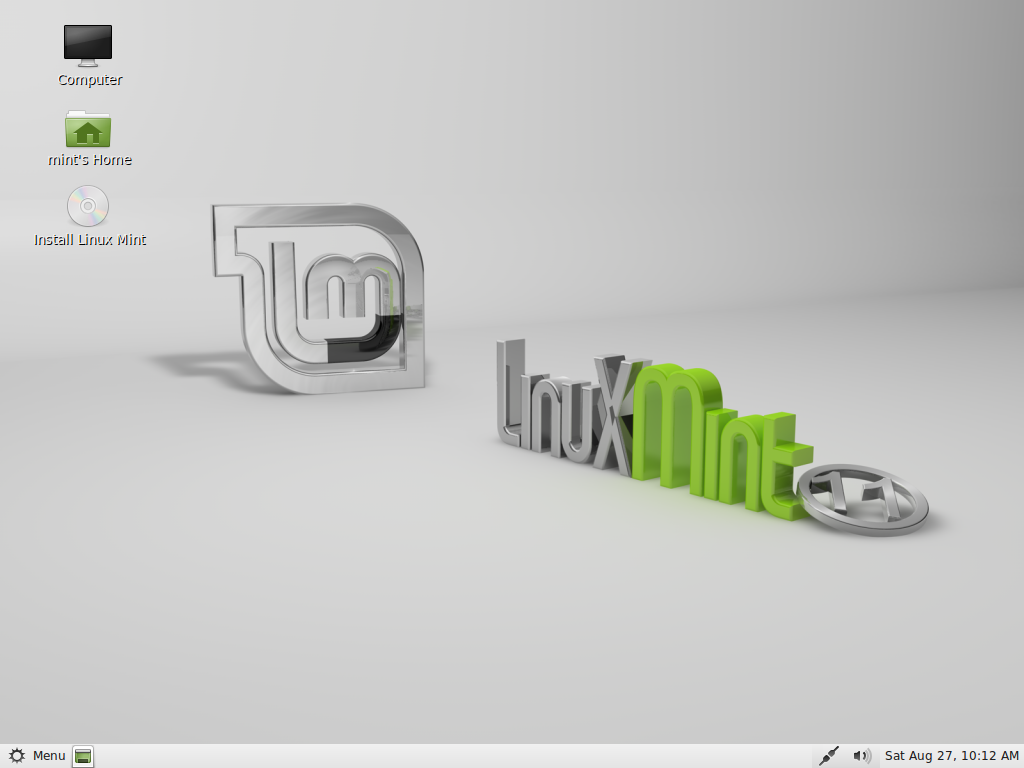 The scary part for Microsoft is that Linux is just now getting to the point where it can be counted on for the high degree of reliability corporate and organizational leaders expect from an operating system. There are challenges on the horizon for Mint, but there are also hoards of coders who have been feverishly working behind the scenes to make Linux a real competitor. And they are ready and waiting for the opportunity to earn some hard earned money assisting the business world with its implementations of the OS. More power to them and good luck, too. You deserve the success.
If you are on edge about Windows, here's a plan. Download Sun VirtualBox and Mint. Install Mint on VirtualBox and leave it there for several weeks or months. Open it when you really want to take a look around and see what can be done on Linux and investigate your options with the OS. Get back to me after that...if you're not already a believer in the viability of Linux, I bet you will have a different view of the possibilities moving forward.
I don't use Linux, although I do have Mint on VirtualBox, but the allure is there of easy compatibility. I won't rule out a switch in the future, but I definitely recommend everyone take it for a test drive.
3DTop
-Welcome to the world of the 3 dimensional desktop. With these last two selections for this list (the last one is a bonus), I decided to go with winning ideas that I believe will be big hits in the future. The first one of these is 3DTop.
From the start, 3DTop looks like a disaster, unimpressive to the point of being comical. It's basically a portable application to start with. How can that possibly make for a desktop, much less 3D? But the surprises begin when the program is opened. Not that it looks all that great initially, it doesn't really. It's just that from the first second the program is opened, I am thrust into a new 3D world. I can move up/down, front/back, and side/side, like a bird or a plane, and I can spin in 3D.  That's very cool.  However, this little program is also very configurable, much more that it might seem to be looking at the menu or at its 481K launcher.
First of all there is the background. I can substitute a picture across the back or select a color. Then the floor can be customized, also with a picture. Features like pictures and lights can be added and set to spin and still I can zoom through the area. From there it gets better as I can add entirely new 3D worlds to the first one and so on.
That's all fun and worth the download. But the best part is the calming affect the desktop seems to have on a PC. For me, 3DTop really helped quiet all the fuss going on inside the computer, and it helped me focus on what I was using the PC for...work!  On top of this benefit, this program has some other good things going for it. First the developer is still looking for good ideas. Second, there is already plug-in support. That's a good combination for a very innovative idea. I am sure this program is going to take off. When it does, I'll be able to say I was in on the ground floor.
One last thing. Although there is no launch on start up functionality currently for 3DTop, it can be launched in Dexpot at start up. For more:
http://www.freewareb...le/11585-3dtop/
DoItAgain
-Well, now for the bonus program of the top 10.  This is number 11, and I promised interesting ideas with these last two.  DoItAgain is interesting, but it is also, in a word...dangerous.  As dangerous as the software is, I am not intimidated by having it on my machine, if for nothing else than to remind myself of what computers can be.  But I think the program itself deserves some credit too...more than for just being a novel idea.
First, DoItAgain is a macro based procedure automater for XP, Vista, and 7,  The idea is somewhat similar to the macro recorder feature found in Microsoft Office for those familiar with that interface.  The difference is that with DoItAgain, the user creates the macro in Windows by recording mouse movements and clicks.  Using Task Scheduler in any version of Windows, DoItAgain can be set to run at any given time, repeating the mouse gestures recorded in a given macro.  This is a great idea.
Unfortunately, there are no checks against folders or files being moved.  The consequences of right clicks in over a desktop rather than a file or over the wrong file or program can be devastaing and nearly impossible to trace.  For this reason, DoItAgain can only for the time being be considered a freeware project to keep an eye on.  The support is there, so let's hope the developer will take the program to the next level and give us a program that will execute complicated procedures for us in the middle of the night at the office or at home.  It would sure be nice to be able to arrive at the office with that office file that updates its data from 2-4 A.M., etc. to be run and present already on all the PCs of a group network when the doors open for work at 6, 7, or 8 A.M.  DoItAgain presents us a look at a simple way to accomplish this goal without having to find an IT expert or programmer to give us a hand.
Looking forward to the future with DoItAgain, but, for now, gonna tuck it away and leave it alone!
That's all for this top 10 list of Freeware Projects to Watch. Hope you enjoyed the top 10 and that you found some useful knowledge in the article. Thanks for reading...
"); ipb.templates['comment_delete'] = new Template("
Confirm Delete
Are you sure you want to delete this comment?

"); ipb.templates['comment_hide'] = new Template("