marko
View other files from this member
Submitted: Feb 18 2011 07:55 AM
Last Updated: Apr 22 2013 03:04 PM
File Size: 197.54K
Views: 864
Downloads: 39
Will Run On: XP/Vista/7
Author's Site: Click Here
License: Info Not Available
FirefoxDownloadsView 1.35
1 Votes
0
");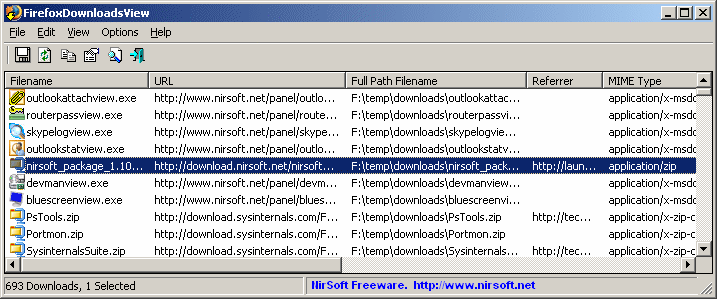 Publishers Description
This utility displays the list of the latest files that you downloaded with Firefox. For every download record, the following information is displayed: Download URL, Download Filename (with full path), Referrer, MIME Type, File Size, Start/End Time, Download Duration, and Average Download Speed.

You can easily select one or more downloads, and then save the list into xml/html/text/csv file or copy the downloads information to the clipboard and paste it into Excel or other spreadsheet application.
Added support for the new download manager of Firefox 20. In order to activate it, you have to turn on the following option: Options -> Use New Firefox 20 Download Manager. Be aware that some of the information, like Start Time, End Time, Duration is missing in the new download manager of Firefox, and thus FirefoxDownloadsView cannot display it. You can still switch to the old download manager and get full downloads information: Simply type 'About:Config' in Firefox, and then set the browser.download.useToolkitUI option to true.
Scanned & Checked: Apr 22 2013 03:04 PM
When we last updated FirefoxDownloadsView we scanned it using VirusTotal and checked the developers site was not listed negatively with any of the reputable site advisory sites such as WOT or SiteAdvisor. We pride ourselves on safe downloads from honest and trustworthy developers