Other
Submitted: Mar 15 2011 08:15 AM
Last Updated: Aug 21 2012 10:05 AM
File Size: 187.97K
Views: 453
Downloads: 10
Will Run On: 2000/7 x32/7 x64/Vista/Vista x64/XP
Author's Site: Click Here
ChromeHistoryView 1.16
1 Votes
0
");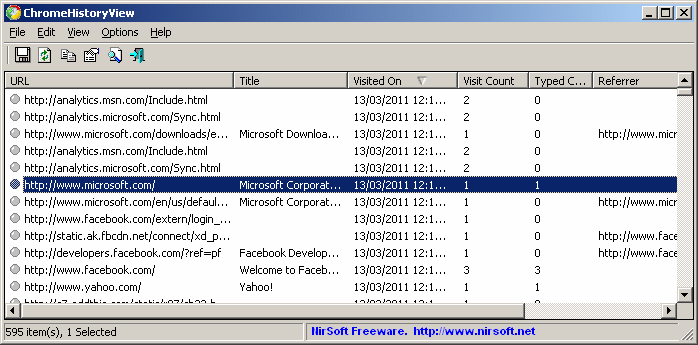 Publishers Description
ChromeHistoryView is a small utility that reads the history data file of Google Chrome Web browser, and displays the list of all visited Web pages in the last days. For each visited Web page, the following information is displayed: URL, Title, Visit Date/Time, Number of visits, number of times that the user typed this address (Typed Count), Referrer, and Visit ID.
You can select one or more history items, and them export them into html/xml/csv/text file, or copy the information to the clipboard and paste it into Excel.
Scanned & Checked: Aug 21 2012 10:05 AM
When we last updated ChromeHistoryView, we made sure it was still virus and malware free and the developer's site had no proven issues in any of the reputable site advisory services. In the unlikely event you notice any issues, please let us know immediately, otherwise we will schedule this software for another scan the next time it is updated.