Other
Submitted: Jul 14 2011 08:53 PM
Last Updated: Aug 05 2012 02:08 PM
File Size: 54.27K
Views: 429
Downloads: 12
Will Run On: 2000/7 x32/7 x64/98/Server/Vista/Vista x64/XP
Author's Site: Click Here
License: Info Not Available
StressMyPC 2.00
1 Votes
0
");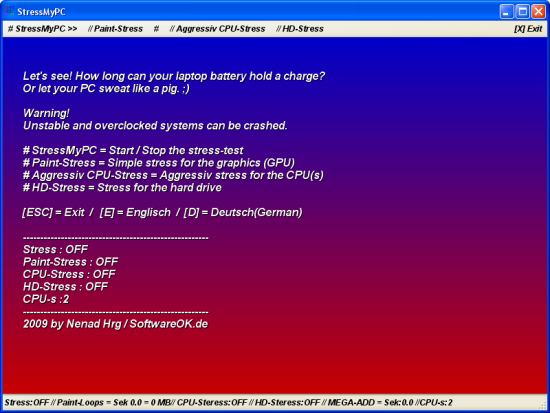 Publishers Description
Let's see! How long can your laptop battery hold a charge?
Or let your PC sweat like a ....
Warning!
Unstable and overclocked systems can be crashed.
StressMyPC : Start / Stop the stress-test

Paint-Stress : Simple stress for the graphics (GPU)

Aggressive CPU-Stress : Aggressiv stress for the CPU(s)

HD-Stress : Stress for the hard drive
Improvements and adjustments for the new Windows 8 and tests at Windows 8 Release Preview.
Scanned & Checked: Aug 05 2012 02:08 PM
When we last updated StressMyPC, we made sure it was still virus and malware free and the developer's site had no proven issues in any of the reputable site advisory services. In the unlikely event you notice any issues, please let us know immediately, otherwise we will schedule this software for another scan the next time it is updated.