Other
Submitted: Sep 12 2011 07:08 AM
Last Updated: Aug 07 2012 06:22 AM
File Size: 98.34K
Views: 433
Downloads: 24
Will Run On: 2000/7 x32/7 x64/Vista/Vista x64/XP
Author's Site: Click Here
NetworkTrafficView 1.42
2 Votes
0
");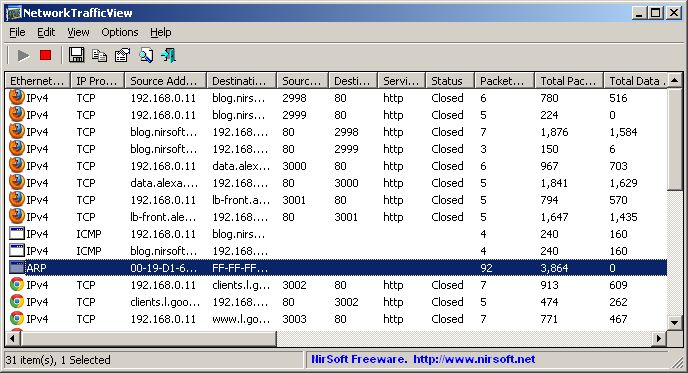 Publishers Description
NetworkTrafficView is a network monitoring tool that captures the packets pass through your network adapter, and displays general statistics about your network traffic. The packets statistics is grouped by the Ethernet Type, IP Protocol, Source/Destination Addresses, and Source/Destination ports. For every statistics line, the following information is displayed: Ethernet Type (IPv4, IPv6, ARP), IP Protocol (TCP, UDP, ICMP), Source Address, Destination Address, Source Port, Destination Port, Service Name (http, ftp, and so on), Packets Count, Total Packets Size, Total Data Size, Data Speed, Maximum Data Speed, Average Packet Size, First/Last Packet Time, Duration, and process ID/Name (For TCP connections).
Scanned & Checked: Aug 07 2012 06:22 AM
When we last updated NetworkTrafficView, we made sure it was still virus and malware free and the developer's site had no proven issues in any of the reputable site advisory services. In the unlikely event you notice any issues, please let us know immediately, otherwise we will schedule this software for another scan the next time it is updated.