marko
View other files from this member
Submitted: Sep 14 2011 12:29 PM
Last Updated: Apr 22 2013 02:55 PM
File Size: 101.34K
Views: 1674
Downloads: 23
Will Run On: XP/2003/Vista/2008/7 (32/64-Bit)
Author's Site: Click Here
License: Info Not Available
CSVFileView 1.76
1 Votes
0
");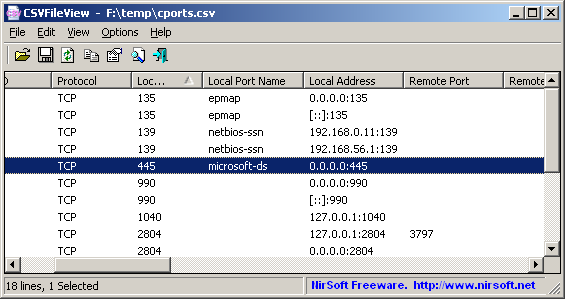 Publishers Description
CSVFileView is a simple CSV file viewer/converter utility that allows you to easily view the content of CSV or tab-delimited file created by NirSoft utilities or by any other software, in a simple table viewer. You can sort the lines according to one of the fields, remove unwanted fields and change their order, and then save the result back into CSV file, tab-delimited file, XML file, or HTML report.
Added 'Scroll To Bottom On New Line' option. If this option is turned on, a parial refresh is made, and new lines were added since the last refresh, then the List-View is scrolled to the bottom in order to show you the added new lines.
Scanned & Checked: Apr 22 2013 02:55 PM
When we last updated CSVFileView we scanned it using VirusTotal and checked the developers site was not listed negatively with any of the reputable site advisory sites such as WOT or SiteAdvisor. We pride ourselves on safe downloads from honest and trustworthy developers