marko
View other files from this member
Submitted: Oct 31 2007 08:26 PM
Last Updated: Apr 22 2013 03:02 PM
File Size: 54.2K
Views: 1167
Downloads: 140
Will Run On: XP/Vista/7
Author's Site: Click Here
License: Info Not Available
IPNetInfo 1.45
1 Votes
0
");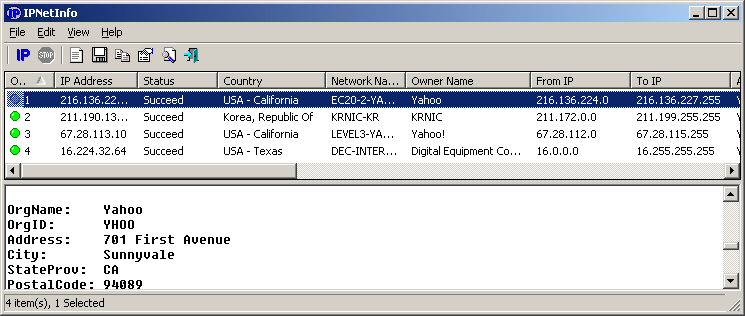 Publishers Description
IPNetInfo is a small utility that allows you to easily find all available information about an IP address: The owner of the IP address, the country/state name, IP addresses range, contact information (address, phone, fax, and email), and more.

This utility can be very useful for finding the origin of unsolicited mail. You can simply copy the message headers from your email software and paste them into IPNetInfo utility. IPNetInfo automatically extracts all IP addresses from the message headers, and displays the information about these IP addresses.
IPNetInfo now displays the result as failed if 'Query rate limit exceeded' message is detected.
Added 'Mark Odd/Even Rows' option, under the View menu. When it's turned on, the odd and even rows are displayed in different color, to make it easier to read a single line.
Added 'Auto Size Columns+Headers' option, which allows you to automatically resize the columns according to the row values and column headers.
Scanned & Checked: Apr 22 2013 03:02 PM
When we last updated IPNetInfo we scanned it using VirusTotal and checked the developers site was not listed negatively with any of the reputable site advisory sites such as WOT or SiteAdvisor. We pride ourselves on safe downloads from honest and trustworthy developers