Other
Submitted: Apr 04 2012 02:16 PM
Last Updated: Jul 29 2012 04:17 PM
File Size: 10.32MB
Views: 419
Downloads: 50
Will Run On: 2000/7 x32/7 x64/Other/Server/Vista/Vista x64/XP/Other
Author's Site: Click Here
License: Info Not Available
IP Camera Viewer 1.22
1 Votes
0
");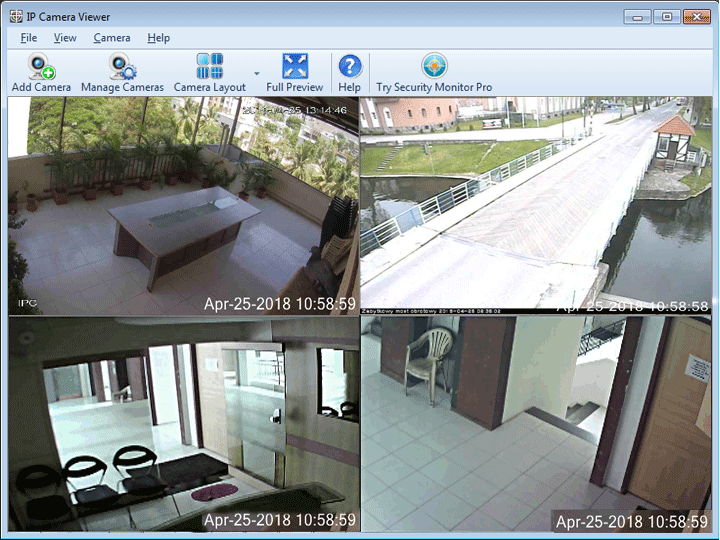 Publishers Description
Set up a FREE IP camera monitoring system within minutes!  IP Camera Viewer is an alternative to the flimsy software that is shipped with most network IP cameras. Keep an eye on your home, office, parking area or anywhere you have a IP camera.

View video from multiple cameras simultaneously.  More than 1500 different IP camera models are supported including Axis, Canon, Cisco, D-Link, Foscam, Linksys, Mobotix, Panasonic, Pixord, Sony, Toshiba, Vivotek and many more.  Virtually all USB cameras work with IP Camera Viewer.

IP Camera Viewer allows you to individually configure video properties such as the resolution and frame rate for each camera.  You can also set image properties such as saturation, brightness, contrast for USB and IP Cameras. Arrange multiple IP cameras in the preview layout you want.

What if your camera is mounted upside-down or its preview is tilted a bit?  With IP Camera Viewer you can adjust the orientation of your camera preview.  You can also adjust the coverage area with support for PTZ (Pan/Tilt/Zoom) enabled network cameras.  IP Camera Viewer lets you digitally zoom on an image, even if your camera doesn't support zoom.

IP Camera Viewer is absolutely FREE and ideal for both personal and business purposes!
Scanned & Checked: Jul 29 2012 04:17 PM
When we last updated IP Camera Viewer, we made sure it was still virus and malware free and the developer's site had no proven issues in any of the reputable site advisory services. In the unlikely event you notice any issues, please let us know immediately, otherwise we will schedule this software for another scan the next time it is updated.