Other
Submitted: Apr 18 2012 07:52 PM
Last Updated: Aug 18 2012 02:49 PM
File Size: 1.17MB
Views: 555
Downloads: 16
Will Run On: XP/7 x32/2000/Other
Author's Site: Click Here
License: Info Not Available
Mouse Hunter 1.50
1 Votes
0
");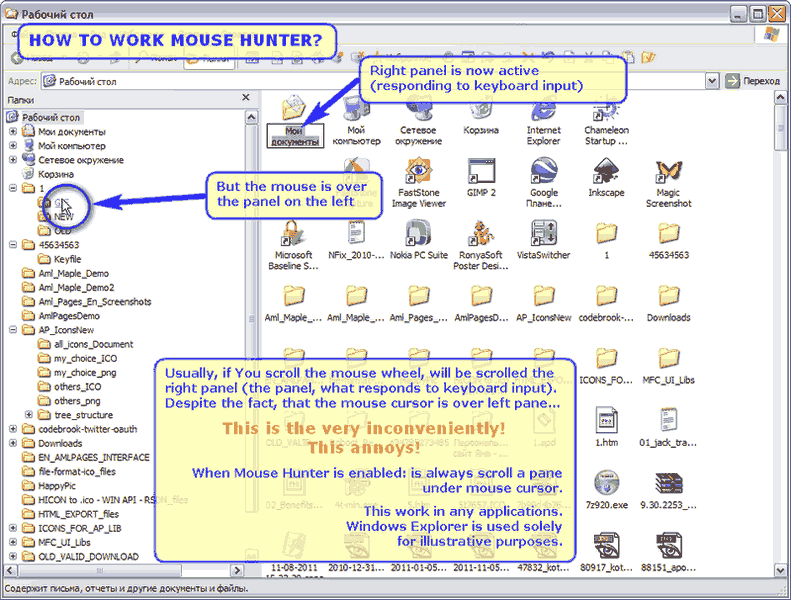 Publishers Description
Mouse Hunter is a free utility that optimizes the work with the mouse wheel. When you spin the mouse wheel it scrolls the UI element that is located under the mouse pointer, not the element that has the input focus (which responds to the keyboard input) as it usually happens in Windows.
It works with almost all applications.

It sits in your system tray as an icon.

Left-click on the icon to enable or disable the Mouse Hunter.

Double left-click on the icon to open settings.

Right-click on the icon to get the context menu.

In the settings you can enable horizontal scrolling when certain buttons are pressed.
added: scrolling of window, if mouse pointer under scrollbars;
added: French localization;
fixed: running of config-module under Windows NT;
added: Russian localization;
added: German localization;
added: detection of autorun settings in background thread (in config module);
some bug fixes;
Scanned & Checked: Aug 18 2012 02:49 PM
When we last updated Mouse Hunter, we made sure it was still virus and malware free and the developer's site had no proven issues in any of the reputable site advisory services. In the unlikely event you notice any issues, please let us know immediately, otherwise we will schedule this software for another scan the next time it is updated.