Other
Submitted: Aug 08 2012 06:09 PM
Last Updated: Aug 08 2012 06:09 PM
File Size: 49.22K
Views: 235
Downloads: 14
Will Run On: XP
Author's Site: Click Here
License: Info Not Available
MUICacheView 1.01
1 Votes
0
");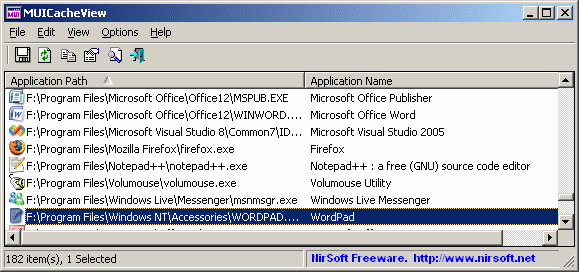 Publishers Description
Each time that you start using a new application, Windows operating system automatically extract the application name from the version resource of the exe file, and stores it for using it later, in Registry key known as the 'MuiCache'.

This utility allows you to easily view and edit the list of all MuiCache items on your system. You can edit the name of the application, or alternatively, you can delete unwanted MUICache items.
Be aware that even if your delete MUICache items, they'll reappear in the next time that you run the application.
Scanned & Checked: Aug 08 2012 06:09 PM
When we last updated MUICacheView, we made sure it was still virus and malware free and the developer's site had no proven issues in any of the reputable site advisory services. In the unlikely event you notice any issues, please let us know immediately, otherwise we will schedule this software for another scan the next time it is updated.