marko
View other files from this member
Submitted: Oct 23 2012 11:26 AM
Last Updated: Apr 27 2013 09:30 AM
File Size: 218.67K
Views: 393
Downloads: 32
Will Run On: 2000/XP/Vista/7/8 (32/64-Bit)
Author's Site: Click Here
License: Info Not Available
BrowsingHistoryView 1.27
2 Votes
0
");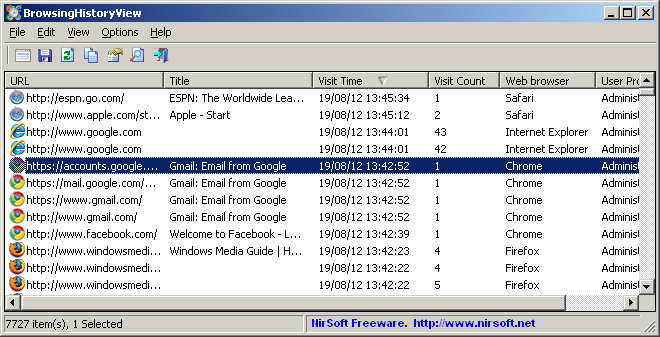 Publishers Description
BrowsingHistoryView is a utility that reads the history data of 4 different Web browsers (Internet Explorer, Mozilla Firefox, Google Chrome, and Safari) and displays the browsing history of all these Web browsers in one table.
The browsing history table includes the following information: Visited URL, Title, Visit Time, Visit Count, Web browser and User Profile. BrowsingHistoryView allows you to watch the browsing history of all user profiles in a running system, as well as to get the browsing history from external hard drive.
You can also export the browsing history into csv/tab-delimited/html/xml file from the user interface, or from command-line, without displaying any user interface.
Works with
Internet Explorer (Version 4.00 and greater)
Mozilla Firefox (Version 3.00 and greater)
Google Chrome
Safari
Fixed bug: BrowsingHistoryView failed to load Firefox profile located on a drive letter which is different from the drive letter where the Windows profiles (c:users ...) are located.
Fixed the flickering appeared while scrolling the history items.
Scanned & Checked: Apr 27 2013 09:30 AM
When we last updated BrowsingHistoryView we scanned it using VirusTotal and checked the developers site was not listed negatively with any of the reputable site advisory sites such as WOT or SiteAdvisor. We pride ourselves on safe downloads from honest and trustworthy developers