Other
Submitted: Jan 15 2008 07:31 AM
Last Updated: Jul 16 2012 08:32 AM
File Size: 58.16K
Views: 1000
Downloads: 41
Will Run On: 98/ME/NT 4.x/2000/XP/2003/Vista Starter/Vista Home Basic/Vista Home Premium/Vista Business/Vista Enterprise/Vista Ultimate
Author's Site: Click Here
License: Info Not Available
GACView 1.11
1 Votes
1
");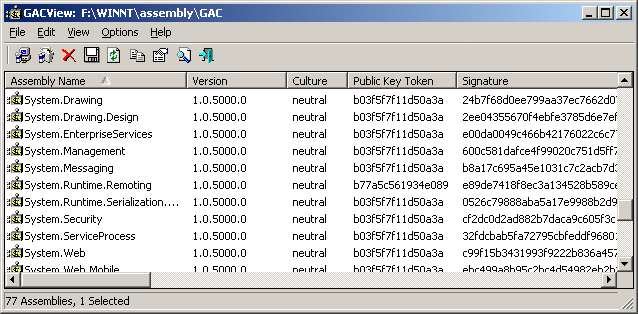 Publishers Description
GACView is an alternative to the standard .NET assembly viewer on Windows Explorer. In addition to the standard columns, GACView displays additional information for each assembly, like modified date, file size, full path of the assembly file, file version, and so on. GACView also allows you to delete an assembly the cannot be uninstalled in the regular way.
Scanned & Checked: Jul 16 2012 08:32 AM
When we last updated GACView, we made sure it was still virus and malware free and the developer's site had no proven issues in any of the reputable site advisory services. In the unlikely event you notice any issues, please let us know immediately, otherwise we will schedule this software for another scan the next time it is updated.