Other
Submitted: Feb 11 2008 03:11 PM
Last Updated: Sep 13 2012 06:20 AM
File Size: 251.7K
Views: 1397
Downloads: 132
Will Run On: XP/2003/Vista/2008/7 (32/64-Bit)
Author's Site: Click Here
License: Info Not Available
NirCmd 2.70
1 Votes
0
");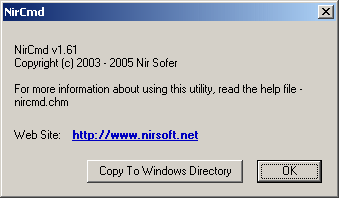 Publishers Description
NirCmd is a small command-line utility that allows you to do some useful tasks without displaying any user interface. By running NirCmd with simple command-line option, you can write and delete values and keys in the Registry, write values into INI file, dial to your internet account or connect to a VPN network, restart windows or shut down the computer, create shortcut to a file, change the created/modified date of a file, change your display settings, turn off your monitor, open the door of your CD-ROM drive, and more...
Added new option to speak command: You can now save the entire speach into a .wav file that can be played with any media player (Instead of playing it directly to your sound card).
Added restartexplorer command, which simply restarts Windows Explorer gracefully.
Added screensavertimeout command, which allows you to set the screensaver timeout, in seconds.
Added togglemax, togglemin, togglehide, toggledisable actions to win command.
Added SystemSounds support for setappvolume, changeappvolume, and muteappvolume commands.
Fixed issue on Windows 7: 'win close alltopnodesktop' command caused a shutdown dialog-box to appear.
Fixed the setprimarydisplay to work properly.
Scanned & Checked: Sep 13 2012 06:20 AM
When we last updated NirCmd, we made sure it was still virus and malware free and the developer's site had no proven issues in any of the reputable site advisory services. In the unlikely event you notice any issues, please let us know immediately, otherwise we will schedule this software for another scan the next time it is updated.