Other
Submitted: Mar 30 2008 06:41 PM
Last Updated: Jul 19 2012 10:02 AM
File Size: 105.21K
Views: 1206
Downloads: 129
Will Run On: XP
Author's Site: Click Here
License: Info Not Available
SiteShoter 1.42
1 Votes
0
");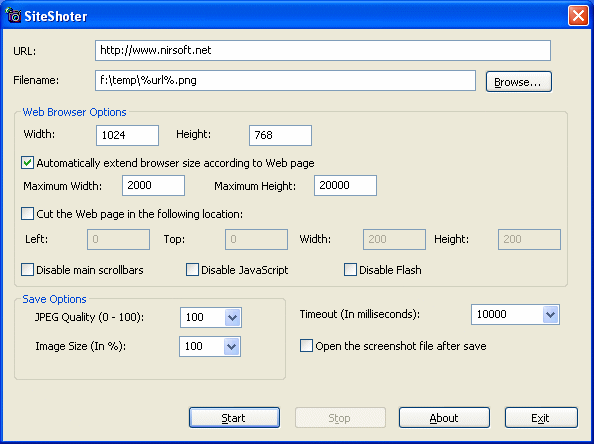 Publishers Description
SiteShoter is a small utility that allows you to save a screenshot of any Web page into a file. It automatically creates hidden window of Internet Explorer, loads the desired Web page, and than save the entire content of the Web page into an image file (.png, .jpg, .tiff, .bmp or .gif).

You can use SiteShoter in user interface mode, or alternatively, you can run SiteShoter in command-line mode without displaying any user interface.
Fixed bug: SiteShoter failed to save the file with %url% variable if the Web site URL specified a port number (For example: http://mywebsite.com:8080 )
Scanned & Checked: Jul 19 2012 10:02 AM
When we last updated SiteShoter, we made sure it was still virus and malware free and the developer's site had no proven issues in any of the reputable site advisory services. In the unlikely event you notice any issues, please let us know immediately, otherwise we will schedule this software for another scan the next time it is updated.