Other
Submitted: Jun 10 2009 10:37 PM
Last Updated: Jul 18 2012 11:48 AM
File Size: 98.4K
Views: 1228
Downloads: 54
Will Run On: XP/Vista/Vista x64/7 x32/7 x64/2000/Other/2000/2003/Server/Vista Ultimate/Vista Ultimate x64/Tablet PC Edition 2005/Media Center Edition 2005/Vista Starter/Vista Home Basic/Vista Home Premium/Vista Business/Vista Enterprise/Vista Home Basic x64/Vista Home Premium x64/Vista Business x64/Vista Enterprise x64
Author's Site: Click Here
License: Info Not Available
MobaXterm 5.0
1 Votes (You voted 5)
0
");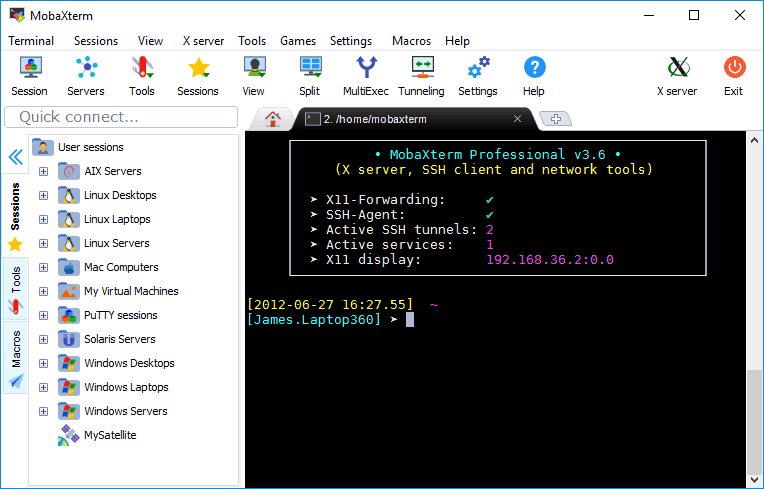 Publishers Description
MobaXterm is a set of Unix commands (GNU/Cygwin) included in a single portable exe file. MobaXterm integrates an X server and several network clients (SSH, RDP, VNC, telnet, rlogin, sftp, ftp, ...) accessible through a tab-based terminal.
MobaXterm also integrates a complete set of GNU/Unix commands.
Features
Free X server fully configured (based on Xorg)

Tab-based terminal with antialiased fonts and macro support

Easy DISPLAY exportation from any remote host

X11-Forwarding capability in OpenSSH

Program without installation that you can start from an USB stick

Light and portable application, packaged in a single executable
Added a new graphical port forwarding editor
Added a quick search field on top of the saved sessions
Added an option for enabling/disabling the SFTP browser
Added the FVWM2 window manager
Scanned & Checked: Jul 18 2012 11:48 AM
When we last updated MobaXterm, we made sure it was still virus and malware free and the developer's site had no proven issues in any of the reputable site advisory services. In the unlikely event you notice any issues, please let us know immediately, otherwise we will schedule this software for another scan the next time it is updated.