Other
Submitted: Oct 27 2009 10:05 AM
Last Updated: Jul 24 2012 10:37 AM
File Size: 71.3K
Views: 758
Downloads: 73
Will Run On: 2000/7 x32/7 x64/Vista/Vista x64/XP
Author's Site: Click Here
DevManView 1.27
1 Votes
0
");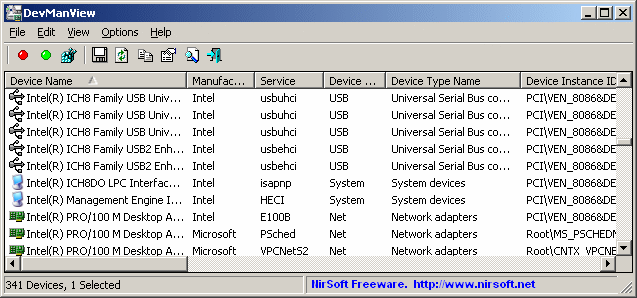 Publishers Description
DevManView is an alternative to the standard Device Manager of Windows, which displays all devices and their properties in flat table, instead of tree viewer. In addition to displaying the devices of your local computer, DevManView also allows you view the devices list of another computer on your network, as long as you have administrator access rights to this computer.DevManView can also load the devices list from external instance of Windows and disable unwanted devices. This feature can be useful if you have Windows operating system with booting problems, and you want to disable the problematic device.
Scanned & Checked: Jul 24 2012 10:37 AM
When we last updated DevManView, we made sure it was still virus and malware free and the developer's site had no proven issues in any of the reputable site advisory services. In the unlikely event you notice any issues, please let us know immediately, otherwise we will schedule this software for another scan the next time it is updated.