Other
Submitted: Apr 06 2010 10:40 AM
Last Updated: Jul 19 2012 09:48 AM
File Size: 74.79K
Views: 481
Downloads: 10
Will Run On: 7 x32/7 x64/Vista/Vista x64/XP
Author's Site: Click Here
License: Info Not Available
NTFSLinksView 1.07
1 Votes
0
");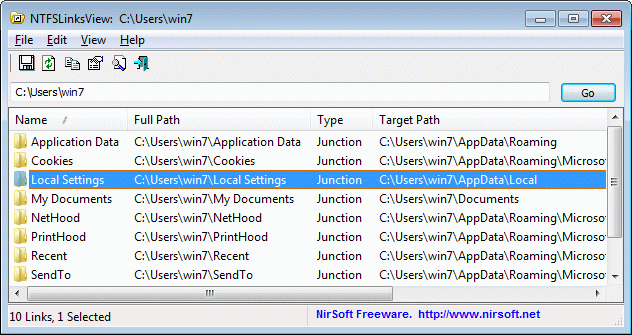 Publishers Description
Starting from Windows Vista, Microsoft uses symbolic links and junction points of NTFS file system in order to make changes in the folders structure of Windows and keep the compatibility of applications written for older versions of Windows. This utility simply shows you to list of all symbolic links and junctions in the specified folder, and their target paths. It also allows you to save the symbolic links/junctions list into text/html/xml/csv file.
Fixed bug: The 'Create Time' column was sorted alphabetically instead of sorting by time.
Scanned & Checked: Jul 19 2012 09:48 AM
When we last updated NTFSLinksView, we made sure it was still virus and malware free and the developer's site had no proven issues in any of the reputable site advisory services. In the unlikely event you notice any issues, please let us know immediately, otherwise we will schedule this software for another scan the next time it is updated.